Flip-down Monitors: Easy Trip with Happy Passengers!
Let's continue to discuss whether drivers and passengers need monitors in the car or it's just a whim. In the previous article we dealt with in-dash displays, headrest and armrest monitors. Today we will talk about flip down monitors, also called – roof TVs.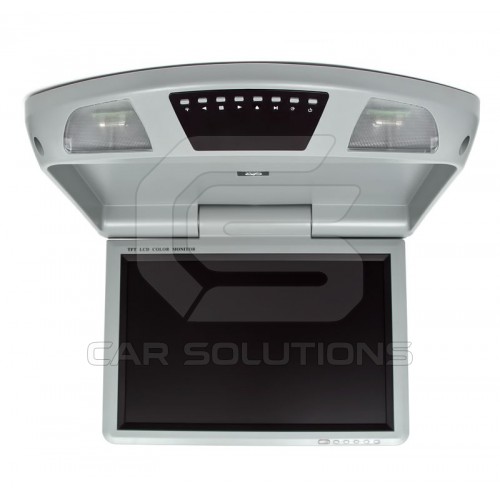 On the one hand those who travel in the car alone or just give a lift to their coworkers hardly need this device. However, if you plan a long family trip or just want to entertain your rear seat passengers so they don't distract you from driving, roof DVD will be very handy. You can ask why we don't offer headrest monitors which we praised so much in the previous article? Here is our answer: headrest monitors are really great, but what shall one do if there are 3 passengers instead of two and they will fight for DVD (especially when these are your children). Roof monitors are shrewd choice when you have 7-seater minivan and it's not so cost-effective to buy headrest monitor for each passenger.
And don't be afraid to spoil the interior or make it too clumsy. Flip-down monitor is fairly compact device and you can hardly notice it when folded.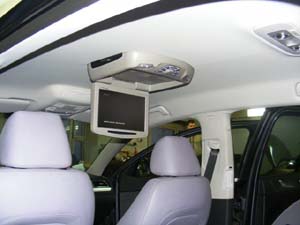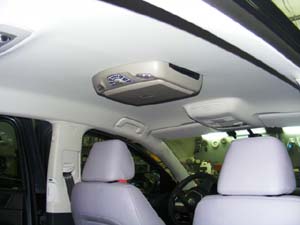 Flip down monitor: opened and folded
If you have a light vehicle, 9-10.4 inch monitors will suit you the best. These monitors are already equipped with built-in DVD player, so you don't need to buy anything additionally. You can use various media: discs, flash drivers and even SD memory cards.
We also recommend buying wireless headphones, so that the sound doesn't irritate the driver and the passengers can enjoy the film.
So, switch the monitor on, adjust the position of the display (most of monitors rotate at least by 90° each side), give wireless earphones to your children and have a good trip.
If you don't want to buy headphones, you can listen to the audio from the built-in speakers or via OEM stereo system of your car (using embedded FM transmitter).
Mobile offices are one more sphere of roof monitors application. You move a lot during the working day and, maybe, with your clients or suppliers? Suppose you don't waste this time and hold your presentation or show your promotion video directly in the car, how do you like it?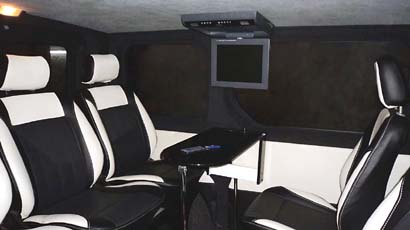 Flip-down monitor in the mobile office
Monitors in the Buses
Flip-down monitors are the best choice for commercial carriers. Just install roof TV in the minibus or 2 monitors in the coach, and the passengers are entertained, and you don't need to make stops so often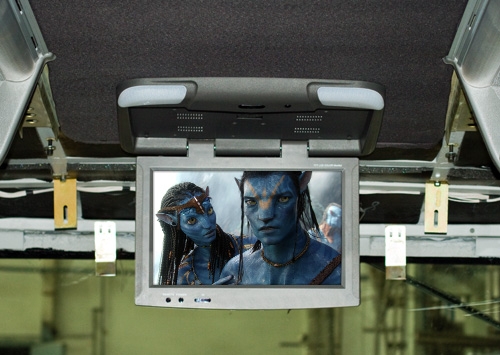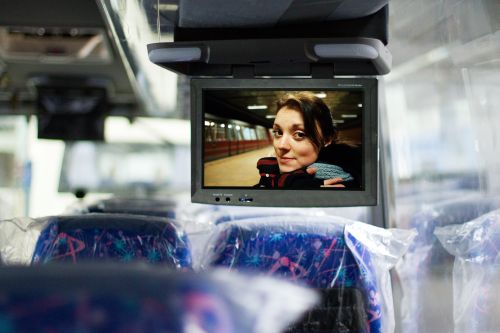 Roof monitors installation in the bus
Our online store sells bus roof monitors with the screen size from
15 to 19 inches
. We offer
flip-down DVDs
as well as
flip-down displays
, to which you can connect external video devices, e.g.
DVD player
,
HD player
or
TV receiver.
Flip-down monitors can have different cases. For example, here you can see the monitor in metal vandal proof case.
Such case is more durable. However, it's not so comfortable because the passengers can strike against it while boarding the bus. To avoid such situations we offer monitors in plastic cases which can be opened manually or using remote control.
You can also buy wireless headphones for each passenger seat. Thus people would not disturb those who don't want to watch and listen to anything. Otherwise you can stream sound through OEM speakers. We offer constructing multifunctional bus multimedia system on the base of flip-down monitors.
Well, let's summarize flip-down monitors selection criteria:
Place of installation (light vehicle, minibus, coach)
Display size
Built-in DVD player
The case material colour and material
If you have any questions or want to share your installation experience, welcome to Car Solutions forum.
All rights reserved. This material from car-solutions.com web site may not be published, rewritten or redistributed in whole or part without authorship indicated and backlinks provided.
Customers Feedback