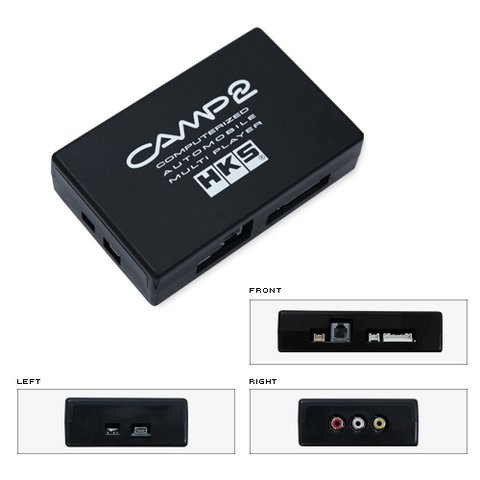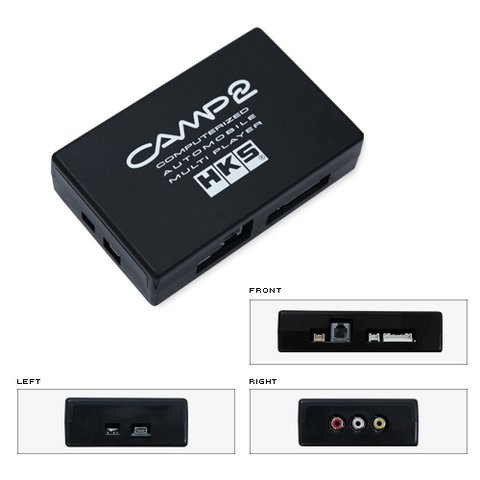 Real-time speed, engine RPM, air/fuel value, knocking value, fuel consumption and cost data monitoring.
HKS CAMP2 provides real-time engine monitoring on the vehicle's on-board factory or aftermarket monitor. The multi-meter is developed to monitor the speed, engine RPM, air/fuel value, knocking value and to provide the driver with a fuel consumption and cost data. CAMP2 is designed to work with most vehicles equipped with OBD2 ports and F-CON S/SZ/iS/V-Pro engine management system.
Features
Displayable Data
Up to 6 of the following 24 data items can be displayed on the screen at once:
Speed
Engine RPM
Water temperature
Ignition timing
A/F correction value
A/F learning value
Intake air volume
Intake temperature
Throttle position
Intake manifold pressure
O2 voltage
Airflow voltage
Fuel injection time
Battery voltage
Fuel efficiency
Horsepower
A/F value
Knocking value
I/F boost pressure
I/F water temperature
I/F oil temperature
I/F oil pressure
I/F fuel pressure
I/F exhaust temperature (EGT)
Past Function
Up to 6 following calculations can be displayed on the screen at once:

Elapsed time
Driving distance
Average speed
Fuel consumption
Average fuel consumption
Fuel cost
Past Mode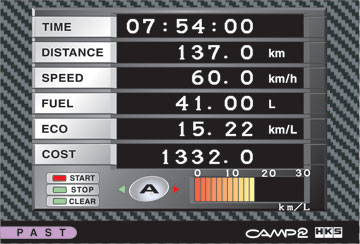 Real time fuel efficiency can be monitored relative to time, distance and speed.
Real-time fuel efficiency is shown as a bar graph on the bottom right of the screen.
Graph
Up to 6 data parameters can be viewed on a time based axis by graph and digital meter
Graph Mode
View function: data changes at 0.2 second intervals can be monitored.
Logging can be conducted for up to 10 minutes.
Analog Meter Indicator
Selected items can be shown in the analog meter
Analog Mode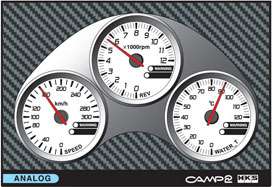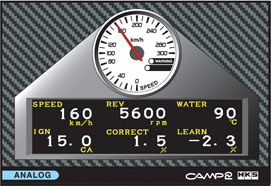 Select from two modes: either 3 analog meter displays, or 1 analog meter with 6 digital indicators below it.
Analog meters accurately show continuously changing data.
Digital Meter Indicator
Selected items can be shown in the digital meter
Digital Mode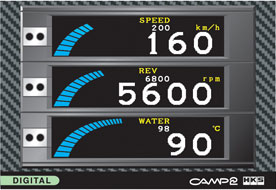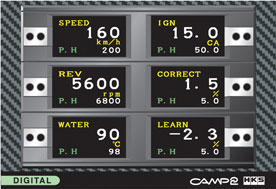 Select from 6 digital meters or 3 digital bar graphs to appear on the screen.
Digital meter shows accurate data for each item.
F-CON (Option)
For vehicles equipped with HKS F Con S/SZ/iS/V-Pro Engine Management Systems
F-CON Mode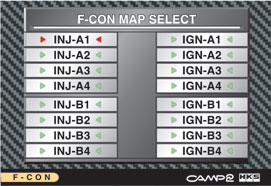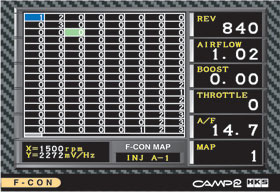 The input value and/or the output value of each F-CON sensor can be monitored.
F-CON S / SZ / SA / iS setting data can be monitored and edited when connected to CAMP2. The unique settings can be made on the engine specification, such as exhaust type or intake type.
I/F Unit Connection
Connecting an HKS I/F Unit to the CAMP2 will allow connected sensor data to be displayed on the screen
Warning Function
When actual data exceeds or falls short of set value, the driver is notified with audible and visual alerts.
Peak Hold Function
The data peak values display
Specifications
CAMP2 main unit

Operating voltage: DC 10-16 V
Maximum electrical power consumption: 2 W

Remote control
Tube fuse for 12 V auxiliary adapter harness and power supply harness
Supported car makers
Toyota
Nissan
Mazda
Honda
Mitsubishi
Subaru
Suzuki
Daihatsu
Lexus
BMW
Mini
Audi
Volkswagen
Lotus
Package contains
CAMP2 main unit
Remote control receiver (2m)
Remote control + battery
OBD2 harness
Relay harness
12V auxiliary adapter harness
Power supply harness
AV cable
Double-sided tape
Velcro tape
Tie wrap
Splice
Instruction manual
Application list
If you have questions concerning this product or want to share your experience of its installation or application, visit
our forum
.
*Product package content and appearance may differ from those presented on the website and depend on video interface version. Please, ask sales manager before purchase.
All rights reserved. This material from car-solutions.com web site may not be published, rewritten or redistributed in whole or part without authorship indicated and backlinks provided.