Dension Gateway 300 and Dension Gateway Five
Let's have a look at a rather common situation. You became a happy owner of an expensive car with a rather high trim level. Among other useful and not really useful options there is an entertainment system and, of course, of a high quality. Just drive and listen to the music. However, the trouble is that you've been using your favourite iPod/iPhone for a long time and you've got a pile of music files at your USB memory stick, but your head unit supports neither iPod / iPhone nor USB memory sticks, if not most of popular digital audio formats. And music in the car is of vital importance for you.
Thus "who is to blame and what we have to do?" perennial question arises. And since there is noone really to blame , there are plenty of variants "what to do".
The most simple is, obviously, to throw away original entertainment system and replace it by head unit of notable carAudio manufacturers.
Functional options would, of course, improve, however, a number of inconveniences would arise:
Original steering wheel control buttons would not work, and if, after all, you would like to make them work, it can be rather troublesome;
Some original head units are so well integrated into the dashboard that it is impossible to replace them or you would have to use transition frame which would not really decorate the interior;
Original head unit replacement can cost a lot of time and money.
Being aware of all these problems engineers of Hungarian company Dension produced a decent solution on a principle "both the wolves have eaten much (clients are satisfied) and the sheep have not been touched (original head unit remains at its place)".
So, what have we got? We offer not to wreck or break anything and even not to make something like "do-it-yourself". It's simple like everything brilliant. Your head unit has external CD changer connection input and most often nothing is connected or device cannot read digital formats.
Dension company presented CD changer emulator. Original head unit "sees" it like a CD changer and it is controlled in the same way as original CD changer with the original head unit buttons or steering wheel control. The most important is the fact that it is connected in the same way as the original CD changer so you won't have to crash or cut anything, all connectors are similar to original. Installation is rather simple, you can connect it yourself, there are a lot of examples "how it works" in the web.
However, the point is that our "CD changer" is not meant to work with CDs, it is designed for such digital devices as USB memory stick or iPod / iPhone. Therefore with the possibility to playback files you make your car more comfortable, and your trips will be more pleasant with listening to gigabytes of various and favourite music or audio books. All these options are implemented with the aid of Dension Gateway 300 USB / iPod Adapter, designed for various car brands, models and years of manufacture. You can always chose device right for your car.
You can argue that there are a lot of such devices on the market. So, what makes Dension better than others?
Let's start from the simplest. Dension Gateway 300 USB / iPod Adapter does not have any limitation on names and number of files and folders, you won't have to spend your time in order to rename your folder, for example, CD1, CD2…, you would have just to write folders with files to USB memory stick or iPod / iPhone. Another advantage of this device is that it works with data carriers of any size. In case USB memory stick size is not enough for you, you can always buy Media Bank which would allow you to connect ordinary hard disc drive of any size you need, be it 250 GB or even 500 GB. And there is a wide range of cradles for your favourite iPod / iPhone suited to every fancy.
However, Quality first and foremost. It goes without saying that copy can never be better than the original. Dension company, apart from Asian analogues, did not copy anything but created a new incomparable product. Only Dension offers one year warranty and only buying Dension product provides you with full technical support up to "ask question" option directly at the manufacturer's web-site.
Dension Gateway Five iPod / USB / Bluetooth Adapter became the latest achievement of the Dension company.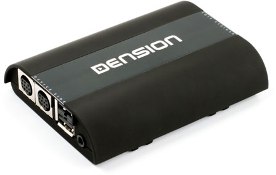 It became a follow-up of Dension Gateway 300 audio interfaces line. In addition to all above mentioned features Dension Gateway Five iPod / USB / Bluetooth Adapter also provides option of "hands free" device allowing you to connect your mobile phone via Bluetooth technology and thus ensuring safe communication not distracting your attention from the road and without violation of laws prohibiting drivers to use mobile phones without hands free set. Now you can easily connect your phone, transfer contact list and make and receive calls using on-board head unit or steering wheel control buttons.
Therefore, Dension Gateway 300 and Dension Gateway Five Audio Interfaces are complex multimedia solutions for your car not violating design and basic functions of entertainment systems.
Main Features of Dension Gateway Five iPod / USB / Bluetooth Adapter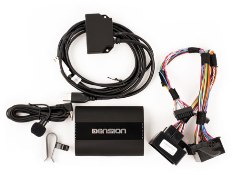 General Features:
iPod / iPhone connection, control and charging.
Compatibility with the existing CD changer.
Simple installation with no modification of your dashboard required.
Song information display in the instrument cluster.
iPod operating via original steering wheel controls.
USB input for mass storage devices (pen drive, HDD), USB sticks & MP3 players.
Text Display on most vehicles.
USB Features:
Supported devices: USB flash memory (USB 1.1 and higher), hard disk drive.
File system: FAT16 or FAT32.
Storage capacity: up to 250 GB.
Music format: MP3, WMA, WAV and OGG.
Bluetooth Features:
Make and receive calls hands free in the car.
Browse your phonebook on the display between the dials.
Play MP3s (A2DP) from your phone through the car audio system.
See call records (missed calls, last call, received calls etc.).
Pair up to five different phones.
All rights reserved. This material from car-solutions.com web site may not be published, rewritten or redistributed in whole or part without authorship indicated and backlinks provided.
Customers Feedback