Music in Your Car by Dension Adapters
Just some ten years ago many car enthusiasts dreamed about the car radio able to play MP3 discs. Nowadays, everything you want from it - AUX and USB inputs and possibility to connect your iPod or iPhone. However, if you have OEM car stereo these functions in most cases are, unfortunately, unavailable. Though, there are no reasons for despair or thinking what's better: to preserve the original stereo or start looking for a new one (which is actually not so easy to find) but with the necessary inputs.
The solution is plain and simple. In our case these are adapters of the Hungarian Dension manufacturer, which gained a good reputation on the car electronics market.
So, let's see what we need and what we get.
Music in the Car
Music from the USB Drive or MP3 Player
Any Dension adapter will deal with this task be it older Dension Gateway 300, Dension Gateway Five models or new Dension Gateway Lite BT and Dension Gateway Pro BT. All these adapters have USB port and AUX input. You can connect even a hard disc drive (up to 250 GB) to the USB input.
However, the adapters offer not only the possibility to connect the devices but also to control them by the OEM radio buttons or steering wheel control buttons (of course if you have such :))
iPod / iPhone in the Car
The owners of these Apple devices will benefit from almost all Dension adapters. iPod or iPhone is connected with the additional dock cable or active cradle with the cable, whatever is more comfortable for you. You can control tracks using the OEM radio buttons or steering wheel control buttons. iPod and iPhone are also charging when connected.
If you have a new iPhone 5 you need to purchase additional Lightning connector adapter.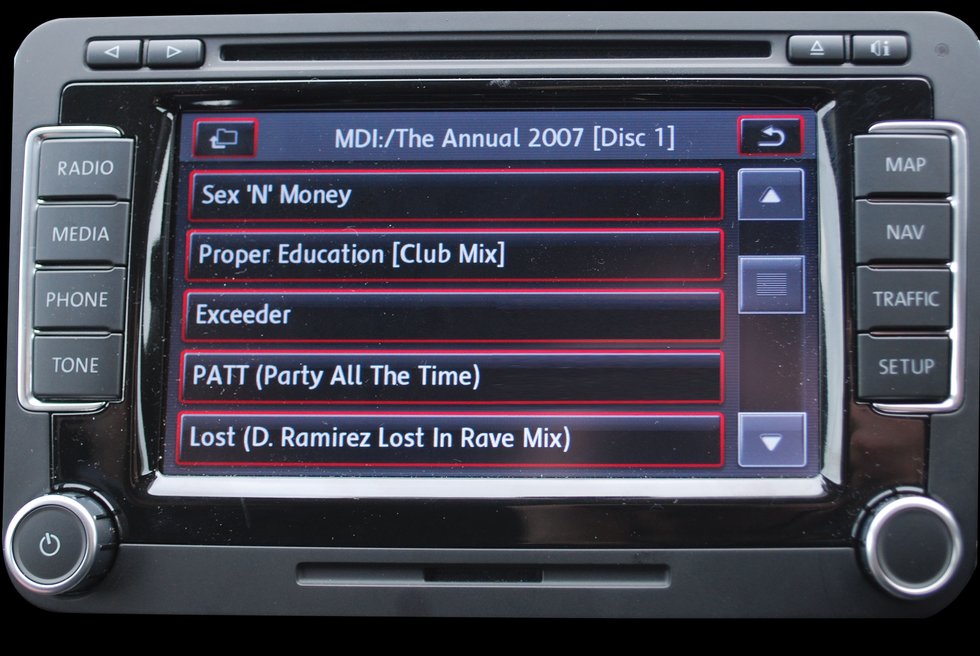 Cell Phone in the Car
There are two ways of the cell phone connection to the car stereo system:
As well as an MP3 player, i.e. via AUX input. In this case your phone will be used only as the audio source.
Via Bluetooth. Here everything is much more interesting. In this case you obtain the possibility to:

play music from the phone via the stereo system through A2DP (adapters Gateway Lite BT, Gateway Five, Gateway Pro BT).
make hands-free calls using the paired phone (Gateway Lite BT, Gateway Five, Gateway Pro BT etc.).
browse phone book, call records on the car monitor (adapters Gateway Five, Gateway Pro BT).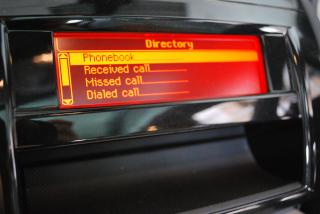 Actually, there is one more way of connection, but we'll tell about it in the next article.
Internet Radio in the Car
One more way to enjoy music in the car is to turn on your favourite web radio. Here car internet radio adapter comes into play. Just plug the device in the car stereo USB port, connect internet using 3G mobile phone (via Bluetooth) or 3G USB modem, select the radio station on TuneIn, and enjoy your favourite radio through the car stereo.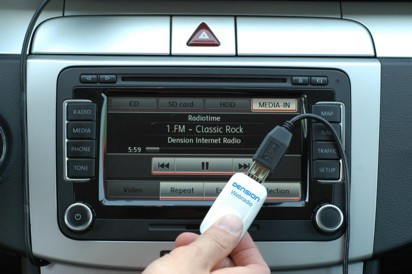 Video from iPod/iPhone in the Car
Well, but iPod and iPhone multimedia functions are not limited by the audio playback. We also offer the possibility to watch video from your device on the car or home display. You can do it using Dension video adapter. If your iPhone/iPod or Smartphone has HDMI output, you can use iPhone / Smartphone connection adapter to the OEM monitor (in this case you will also have to use the video interface). This option will be helpful if you also want to connect other video sources to the OEM monitor.
Comfortable Usage
The adapters won't interfere with your car interior. The module in most cases is placed on the shelf under the car radio on in the glove box. If you connect the USB device which you need at hand, USB extension cable from the package will help you.
We also offer various cradles with connection cables for iPhone and iPod. You can pick up what's convenient right for you.
Universal holder is also worth mentioning. You can fix any lightweight device safely and conveniently in the car.
Making the Right Choice
So, it's clear that in the car you want to listen to your favourite music and use the connected devices in a safe and comfortable way. The next question arises: what adapter you should choose to meet your needs and your car.
To find the answers you should know which head unit (car radio) is installed your car. You should also take into account the car brand, model and model year. After that just check the compatibility list. You can get the short list of the compatible adapters using the filter on the adapters list page of our online store.
For the time being we offer Dension adapters for the following car brands:
Installation
So, you've made a decision but installation scares you? There's no reason to be afraid! Dension adapters offer Plug&Play installation. In other words, you just connect the included cables to the socket on the rear side of your car radio. And that's it!
By the way, we recommend using car trim and radio removal tools to avoid damaging plastic panels.
Listen to your favourite music in the car!
Make your car more comfortable together with Car Solutions and Dension!
All rights reserved. This material from car-solutions.com web site may not be published, rewritten or redistributed in whole or part without authorship indicated and backlinks provided.
Customers Feedback