See Indiscernible with Thermal Imaging Camera Flir PathFindIR
Car Solutions team is glad to present compact thermal imaging camera PathfindIR which would secure your road safety at any time of night and day.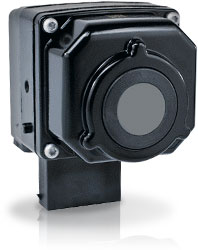 PathfindIR
allows you to detect threats invisible for the naked human eye even under poor visibility conditions The camera detects the object infrared radiation and transforms it with a special algorithm into the analog video signal. Infrared (thermal) radiation is emitted by all objects including bodies with a low temperature. Thermal energy as compared with the light goes better through atmosphere barriers and due to it you can see relief of the area, pits, trees, road marking, cars, pedestrians, animals and other objects on the road or nearby.
PathFindIR package contains uncooled microbolometer (with 320 × 240 pixels resolution), service-free system producing clear images which can be displayed virtually at every monitor with composite signal support. PathFindIR package also contains 19mm wide angle lenses providing extremely wide field of view (36° horizontally) resulting in excellent situational awareness.
Compact (57.4mm × 56.1mm × 71.4mm) and simple-to use PathFindIR system produces standard analog signal of PAL/NTCS format and can be easily connected to any type of monitors, car DVD systems, on-board multimedia systems in private cars, commercial transport and special purpose machinery. Camera is absolutely safe to use since it applies passive working principle and is not a source of any kind of radiation, does not impact people, animals or car electronics. PathFindIR installation does not require connection of IR projectors, additional lights, or modification of the car construction units influencing its safety.
PathFindIR camera
works perfectly under unfavourable conditions
due to particularly rugged structure of the case which basic components are waterproof and resistant to salt reagents and oil products . Working temperature range of the PathFindIR system is from -40°C to +80°C. The device contains
protective glass heater
in order to work at extremely low temperature and produce high quality image. The heater defrosts 2mm of ice within 15 minutes at -30°C and wind speed of 100 km/h The heater turns on automatically when the temperature becomes lower than +4°C and turns off the same way when the temperature reaches +6°C.
Vision range with 19mm lens*
Human
(1.8 × 0.5m)
Detection: apx. 310 meters
Recognition: apx. 80 meters
Identification: apx. 40 meters
Objects
(2.3 × 2.3m)
Detection: apx. 880 meters
Recognition: apx. 230 meters
Identification: apx. 110 meters
* Actual range can vary depending on the camera installation, environmental conditions, user experience and type of the monitor used.
PathFindIR in Use

All rights reserved. This material from car-solutions.com web site may not be published, rewritten or redistributed in whole or part without authorship indicated and backlinks provided.
Customers Feedback