Top 4 Adapters to Connect Your Smartphone to Car Stereo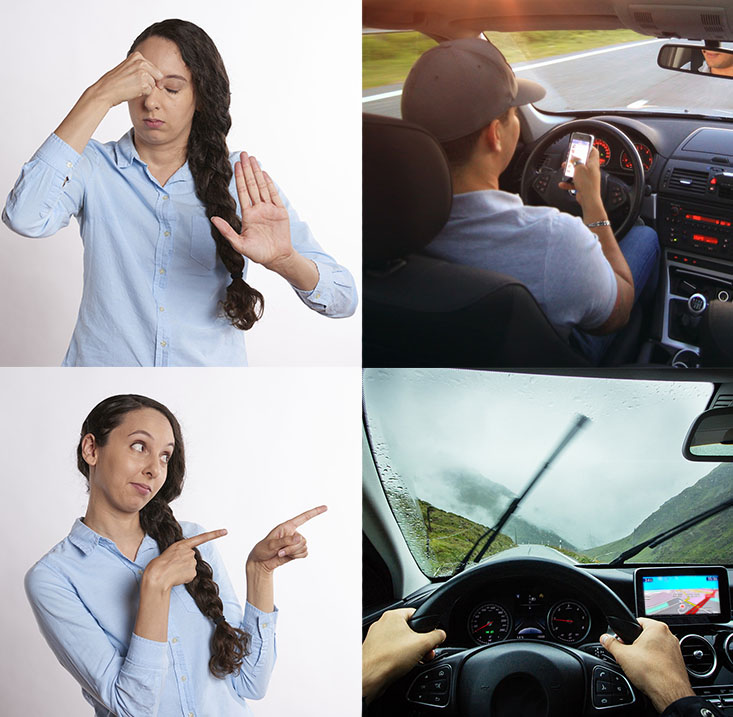 Everyone has a smartphone, right? It's irreplaceable and we use it wherever we go. At home, at work, at the movies (yes, dude, we are talking about you and you should definitely stop!) and, obviously, when we travel.
It's all well and good when you are travelling by train or bus, but when you are driving a car – things become complicated.
The most important "why" is pretty straightforward: it's not safe. You really shouldn't distract yourself by answering calls or looking for directions on the phone navigation app while driving.
Also, just imagine being stuck in a car for several hours without a chance to use your phone. And all you have for entertainment is that one radio station. All ads and the same song playing for the 10th time? That's an easy way to end up in an anger management class.
So, what can you do in that situation? Well, you have 2 options: wrap yourself in a blanket, make some warm cocoa and beg for it to stop, or...connect your phone to a car media system. Not sure how? No worries, we have compiled a list of top 4 ways to do it!
1. AUX Adapter: Fewer Features – Fewer Problems
We will start with the simplest and, for that reason, the cheapest solution – an AUX adapter. It does one thing but it does it really well – allows you to listen to music from your phone. The device provides an AUX input, which is used to transfer audio from your phone to car speakers. This ensures an excellent audio quality and makes sure you fully enjoy your favorite music while on the road.
A cool additional feature of the AUX adapter is that it allows you to connect other audio sources as well, like iPods or mp3 players. However, pausing, rewinding, skipping forward, etc. will have to be done from the connected device – control using OEM buttons or touch screen of your car is not supported.
The adapter itself is quite easy to install, since most of them offer simple Plug&Play connection. The phone is connected via cable within seconds.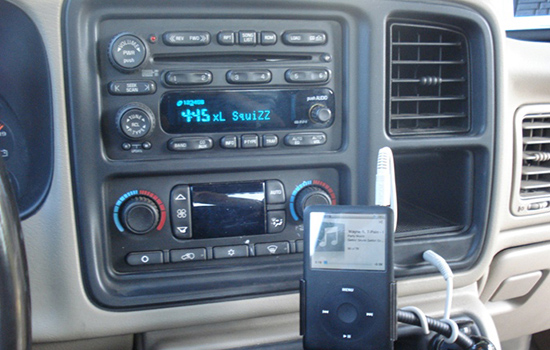 2. Dension Adapter: Best Solution for Older Cars
The next solution on our radar is a Bluetooth adapter from Dension. These devices are more sophisticated than AUX adapters and they provide smoother phone integration into your multimedia system. They only fit older cars, however, so, if your car was manufactured after 2010-2011 – just skip to the next section.
First and foremost, Dension adapters allow you to listen to music from your phone on car speakers. Just as with AUX adapters, you use a special cable to connect your phone, but it will be charging while connected. What's also different, is that you don't have to control the music player from your phone. These adapters fully integrate into the car stereo and allow you to use OEM buttons to pause, rewind and browse through tracks. Neat, isn't it?
"Wait, you've mentioned something about Bluetooth..." That's right! A cool additional feature of these adapters is that they allow you to answer calls in "hands-free" mode, via Bluetooth. This will make sure you stay concentrated on the road, even if someone is calling you.
Dension adapters are a bit pricier than AUX adapters but they also offer simple Plug&Play connection.
3. Mirroring Adapter: Tons of Features with a Bit of a Hassle
Now it's time to talk about mirroring adapters – special devices that allow you to mirror the screen to your car display. This means that you get all features of your iPhone or Android device on the car monitor: music, video (video is only permitted to watch when the car is parked, never do this while driving), navigation, internet browser and so on, except phone calls.
All-in-all, this is a great solution for not just listening to music in your car, but also using other features of your phone that you are so used to.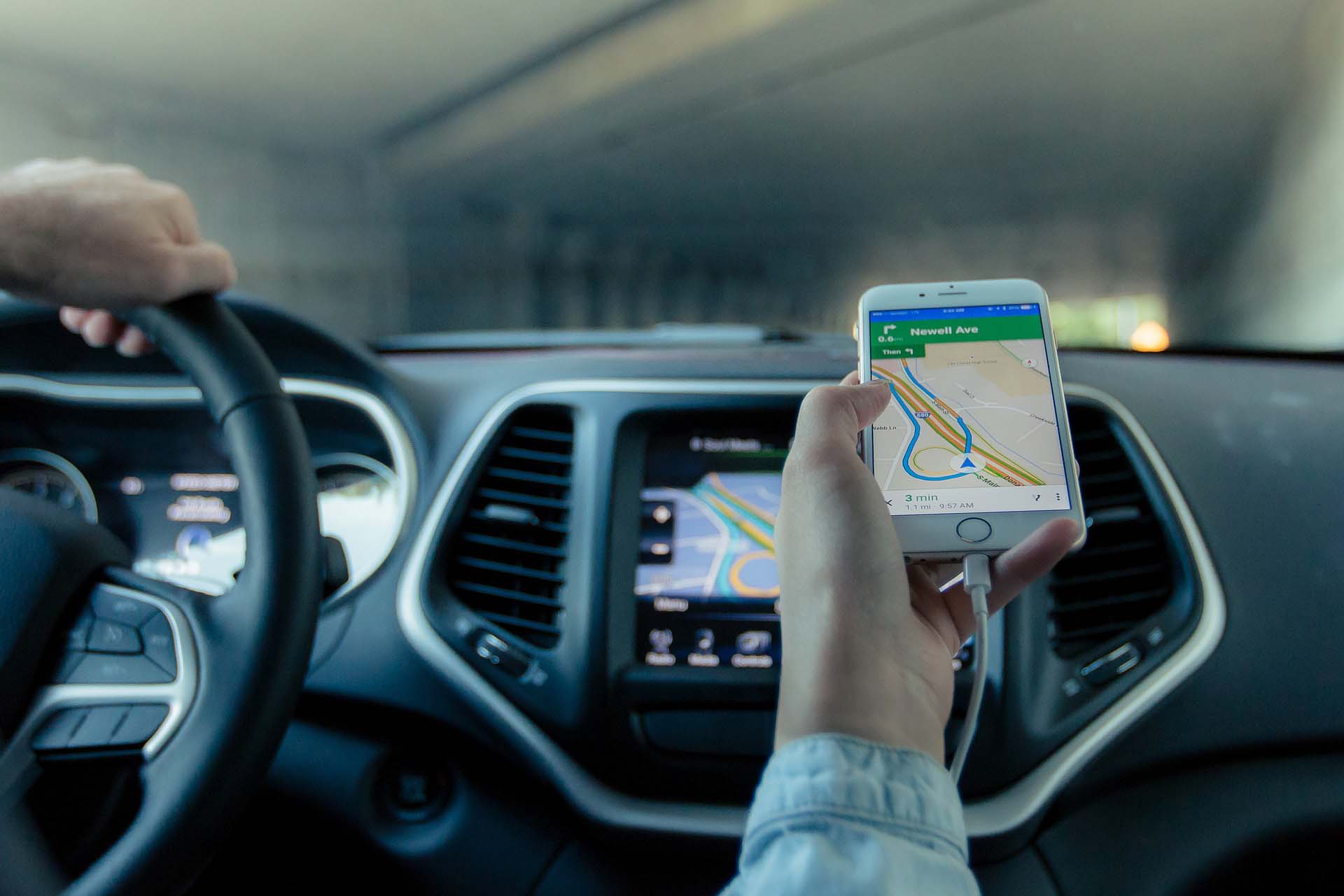 What's the catch? Mainly, in installation. Among all available solutions, this one is probably the trickiest to set up. Most of the time it requires additional equipment, like a video cable or a video interface, or else it simply won't work. Installation isn't all that easy and should be done by a technical specialist.
Another drawback of smartphone mirroring is that you will not be able to use your steering wheel buttons or touch screen for control. Everything is done on the smartphone, your car display will simply mirror and show what you are doing.
There are many types of different Android and iPhone mirroring adapters that offer either cable or Wi-Fi connection.
You can find out more about these adapters in the video below.
4. Apple CarPlay/Android Auto Adapter: Nicest Things Always Cost More
And finally, we get to the crème de la crème of iPhone and Android screen mirroring – CarPlay and Android Auto adapters.
CarPlay and Android Auto are considered to be the best solutions for iPhone or Android integration in a car. The problem is that not too many cars are equipped with these features from the get-go. What's even worse, they don't have any OEM options of adding these features to their car stereo. This is where a CarPlay/Android Auto adapter comes in handy.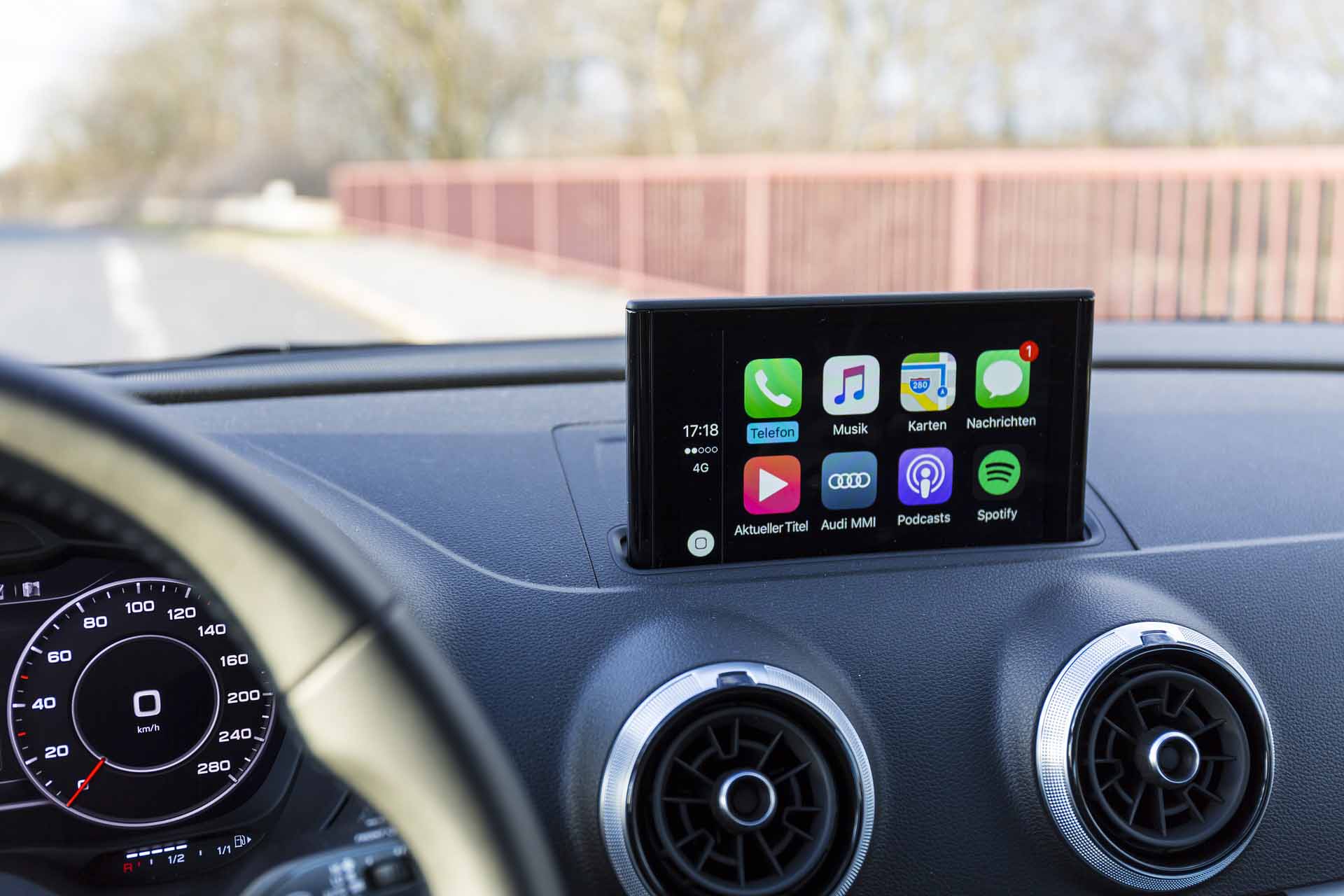 These adapters will make your driving so much more comfortable. They combine the best and most useful features of all of the previous solutions with none of the drawbacks. You will be able to listen to music, use navigation and answer calls, and use steering wheel buttons, joystick or your touch screen to control everything. Phones are connected via cable, so they can charge while you are driving and you won't end up with a drained battery.
And, surprisingly enough, that's not all these adapters bring to the table. Most of the time, they have an additional purpose or feature they add to your car. Like this one: besides adding CarPlay and Android Auto it also allows you to connect both front and rear view cameras. So, basically, it works as a camera adapter as well. 2 in 1, not too bad, right?
Connecting these adapters does not require too much time or effort, as almost all of them offer Plug&Play connection. This also means that you won't be able to damage something or void your car warranty.
Their main drawback is their price – these devices are the most expensive among the solutions we've mentioned. As they say, nice things cost money.
We have prepared a short review of one of such adapters, check it out.
Conclusion
After reading the entire article you are probably trying to wrap your head around everything. Which goes where? What does what? Once again, we've got your back. Below you will find a table that compares all of the most important features of these adapters. We hope it will help you make the right decision!
AUX adapter
Dension adapter
Mirroring adapter
CarPlay/Android Auto adapter
Audio
Video
Calls
Navigation
Internet browser
Charging
*
Control
From connected device
OEM car buttons
From connected device
OEM car buttons, joustick
or touch screen**
Phone connection
Cable
Cable
Cable/Wi-Fi
Cable
Installation
Simple
Simple
Complicated,
requires additional equipment
Simple
Price
Low
Average
Average
High
*Only applicable to devices that offer cable connection of your phone. If the phone is to be connected via Wi-Fi, it can still be charged from a cigarette lighter, using a regular charging device.
**Some devices come with a special external button, which is used for control. In such cases, control using OEM buttons or touch screen is not possible.
Now that you've learned all about smartphone connection, cancel that anger management class and choose the adapter that fits your needs!
Car Solutions Team
AUX
Dension
Mirroring
CarPlay/Android Auto
All rights reserved. This material from car-solutions.com web site may not be published, rewritten or redistributed in whole or part without authorship indicated and backlinks provided.