DVB-T2 TV Receiver and Connection Cable Kit for Touch, Scion Bespoke Monitors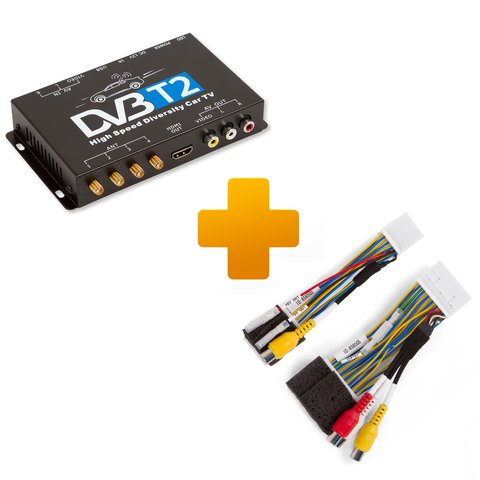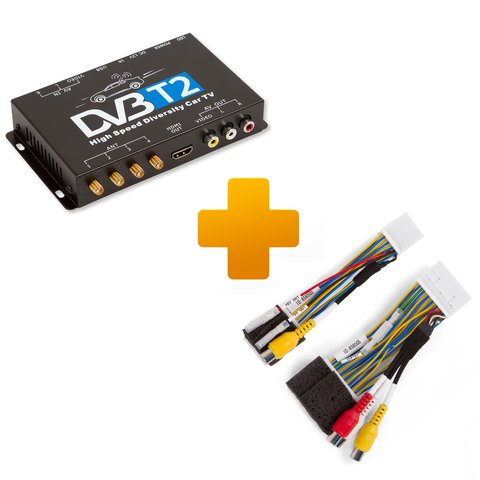 1.1 kg
Availability in stock:
HK
Warranty: 12 month (s)
The kit consists of a DVB-T2 TV receiver with 4 antennas and a connection cable for Toyota Touch, Scion Bespoke monitors.
Note! This item is shipped within 15 working days.
The kit includes everything you need to connect digital T2 television to a car monitor. It consists of a DVB-T2 TV receiver and a connection cable for Touch system, Scion with Bespoke monitors.
Make sure you don't watch TV while you are behind the wheel!
TV Receiver and Connection Cable
Features
4 external antennas guarantee high-quality signal
A set of additional functions, including EPG (TV guide) and PVR (TV program recording)
No OEM functions are disturbed after connection
Connection of external USB drives
TV Receiver
Car DVB-T2 receiver will turn your flip-down, in-dash or OEM monitor into car TV set. The TV receiver has embedded media player which allows you to watch video of virtually any format from the USB carrier and use the receiver as an HD player. Our engineers have tested its operation at the speed of 70 km/h (43.5 m/h).
Equipped with multilanguage OSD menu (languages: English, Russian, Thai, etc.) and an IR eye for remote control unit.
Note! Using TV receiver when the car is in motion, is allowed only for the passengers and not for the driver!
Note! Before purchasing this car DVB-T2 receiver please check DVB-T2 coverage in your region.
Video Connection Cable
This cable allows you to arrange audio and video input in Toyota with Touch system, Scion with Bespoke system without using a video interface. After the cable connection "AV input" icon is automatically activated in the monitor and video in motion is enabled using the additional 28 pin cable. As a result you receive fully functional AV input with possibility to connect composite video signal PAL\NTSC and also linear stereo signal.
You will also enjoy the possibility to connect rear view camera using the cable for video in motion. If you already have the OEM camera, it will continue working the same way as before.
All OEM functions of the monitor will work in the same way as before.
TV Receiver and Connection Cable
Cable Video Review
TV Receiver and Connection Cable
Compatibility
Toyota
Model
Model Years
System / Monitor
Additional compatibility conditions
From
To
Auris
2010
2014
Touch
Touch&Go
Touch&Go Plus
28 pin and 16 pin
socket on the monitor
for cables connection
Auris Hybrid
2010
2014
Avensis
2011
2014
Camry
2011
2014
Camry Hybrid
2011
2014
Corolla
2011
2013
Fortuner
2011
2014
GT86
2012
2015
Highlander
2012
2014
Highlander Hybrid
2012
2014
Hilux
2011
2014
Matrix
2011
2014
Prius
2011
2014
Prius C
2012
2014
Prius MPV+
2012
2014
Prius Plug-in Hybrid
2012
2014
RAV4
2010
2014
Tacoma
2012
2014
Venza
2013
2014
Verso
2009
2014
Verso S
2010
2014
Yaris
2011
2014
Yaris Hybrid
2012
2014
Scion
Model
Model years
System/Monitor
Additional compatibility conditions
From
To
FR-S
2013
2015
Bespoke
28 pin and 16 pin
socket on the monitor
for cables connection
iQ
2013
2015
xB
2013
2015
xD
2013
2015
tC
2013
2015
TV Receiver and Connection Cable
Receiver Technical Specifications
Input signal frequency
UHF: 474 MHz - 858 MHz
VHF: 177.5 MHz - 226.5 MHz
Decoding standards
MPEG4,[email protected],[email protected],H.264/AVC
MPEG-1, and-2,layer and 2, MPEG-4, HE-AAC
Inputs
USB
Video input
Input for antenna (4)
Outputs
Video
HDMI
Audio (R & L)
Power
+12 V ~ 24 V, 6 W
Dimensions
140 mm × 87 mm × 26 mm
(without connectors)
TV Receiver and Connection Cable
Manuals
To adjust the video system of the input video signal or switch the picture mode (4:3, 16:9), refer to the user manual of your monitor.
In case you connect the rear view camera, the camera should be powered from the ACC, i.e. the camera should work constantly but not only when the rear gear is on.
Note! After this cable connection the OEM microphone of OEM BT-Hands-Free will work the same way as before (if it has been installed). if there is no OEM microphone in your car, you will need the AV cable with microphone. Please, contact the manager to purchase that cable (or leave the comments in the order).
To display image from the video devices, connected via TV receiver video input, you need to:
Apply ACC power to TV receiver
Turn on the TV receiver via the remote control
TV Receiver and Connection Cable
Package Content
Product specifications, appearance and package content may differ from those presented on the website and can be changed without notice. Please, contact sales manager before purchase.
All rights reserved. This material from car-solutions.com web site may not be published, rewritten or redistributed in whole or part without authorship indicated and backlinks provided.
Multimedia Kit is compatible with the following models of Cars
Multimedia Kit is compatible with the following models of Cars
Multimedia Kit is compatible with Head Units

Bespoke
Touch
Touch with Go Plus
Touch&Go
Touch&Go Plus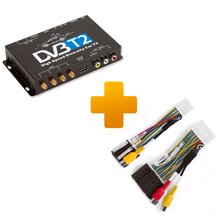 DVB-T2 TV Receiver and Connection Cable Kit for Touch, Scion Bespoke Monitors