Navigation and Entertainment System FlyAudio for Mitsubishi Outlander 2008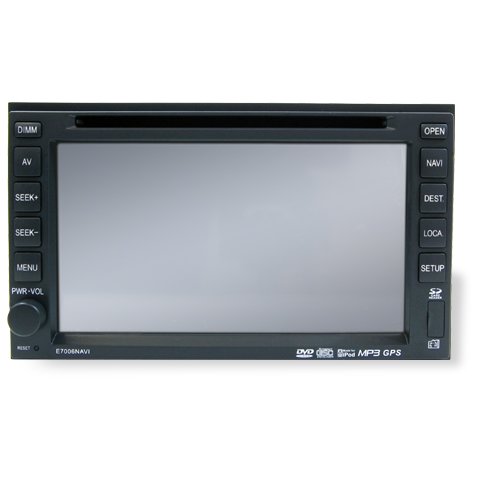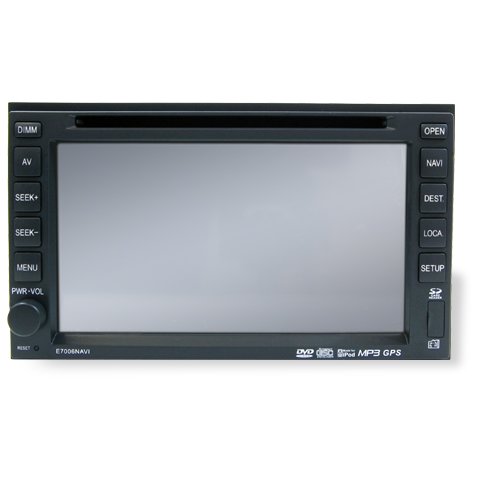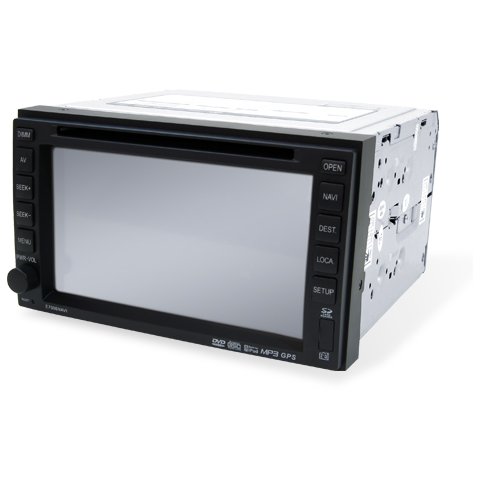 FlyAudio D7000Navi-22 is a car entertainment system with built-in GPS and Bluetooth modules for Mitsubishi Outlander 2008, designed according to the car interior specifications
Description
FlyAudio D7000Navi-22 is a car entertainment system with built-in GPS and Bluetooth modules for Mitsubishi Outlander 2008, designed according to the car interior specifications.
Features
Read more
FlyAudio D7000Navi-22 is a car entertainment system with built-in GPS and Bluetooth modules for Mitsubishi Outlander 2008, designed according to the car interior specifications.
Features
Two processors for GPS and DVD player
6.5″ high resolution TFT LCD, 800 × 480
Supports 4:3, 16:9 and full screen
Built-in GPS system operated by touch screen
Bluetooth with a remote microphone

Incoming phone call number display (some models may be not supported)
Call dialing by means of touch screen

USB plug (for USB flash up to 32 GB)
MicroSD card for navigation software
iPod support
FM/AM receiver, 18 preset frequencies
4×45W amplifier
Steering wheel control
Display adjustment: menu color, brightness (day, night mode)
Auto screen backlight adjustment according to the outdoor illumination intensity (day/night)
Backseat entertainment: run programs on a backseat screen and display AV contents different from that on the mainframe screen
Simultaneous navigation and multimedia playback
GPS
Operating system WIN CE 5.0
GPS chip Sirf Star III
Samsung CPU S3C2440 (400 MHz)
Memory: 64 MB SDRAM 64 MB Flash ROM
MicroSD cards with capacity up to 32GB for a navigation program and MP3 storing
Working frequency 1575.42 MHz
Magnetic antenna 39 × 15.5 × 48.5 mm with 5m cable
Supported software:

IGO6
IGO8
IGO AMIGO
GARMIN XT (memory cards with capacity up to 1 GB only)
AUTOSPUTNIK
NAVITEL
VISICOM
TOTOMTOM
etc.
DVD
DVD player with fixed monitor
Multimedia formats supported:
External AV
Connects other media players such as MP3 or MP4 etc.
iPod Control
iPod touch control
Information display (song, singer, album)
iPod charge
U-disk Player
Catalog browsing
Supports AVI, MPG, MP3 and picture viewing
TMPS sensors (Optional)
Tire pressure and temperature control
Warning display when tire pressure/temperature exceeds maximum set value
TMPS parameters:

Battery life: 2 years in ordinary conditions (4 hours per day, depends on environmental temperature)
Working temperature: from -40°C to 145°C
Operating humidity: 100%
Working frequency: 433.92 MHz
Tire pressure measuring range: 0~60psi
Tire pressure accuracy: ± 0.5 psi
Temperature accuracy: ± 0.5°C
Battery pressure value: CR1632 3V
Bluetooth
Bluetooth 2.0 + EDR compatibility
Class 2 output level
Built-in antenna
Effective distance -10 m
Temperature: from -25°C to 85°C
Built-in DSP echo removal chip
Echo cancellation: Line echo cancellation 25-35dB, acoustic echo cancellation 52-65dB, the noise within 200mS for clear hands-free calling
Noise cancellation: 18dB
A/D, D/A: 72dB SNR, sampling speed 8-11K LM, LC, L2cap, SDP, RFCOMM
Bluetooth HandsFree Profile
Bluetooth Headset Profile
Rear View Camera (Optional)
Rear view camera connection into the mainframe ensures clear backside view when you back a car.
Technical Specifications
Display
Screen
6.5″ Sharp
Display Area
152.4 × 91.44 mm
Resolution
800 × 480 (GPS 480 × 234)
Type
TFT active matrix
Illumination
Cooling degree L-shape tube
Color system
NTSC/PAL compatible
Operating temperature
from -10°C to + 50°C
Storage temperature
from -20°C to + 80°C
Touch screen
Resistive
GPS
GPS module
Sirf Star III
Method
L1,C/A Code
Receiver
12 channels
Frequency
1575.42 MHz
Sensitivity
-130 dBm
Update rate
Once per second
General parameters
Operating voltage
12 V DC (allowable range: 11 – 16 V)
Maximal operating current
10A
Amplifier
Max power output/Electric output resistance
4 × 45W
Load impedance
4 Ω
Max output level
2.0 V/100 Ω
Frequency response
6 dB (10 kHz)
S/N Ratio
100Hz-14

~ +6dB,10kHz ± 10dB

DVD
Disk Format Supported
DVD-ROM, DVD-Video, DVD-R(Video Mode) /RW(Video Mode), CD-ROM, CD-DA, CD-R/RW
Signal Format (sampling frequency)
DVD: 48/96 kHz, CD: 44.1 kHz
Signal Format (bit rate)
DVD: 16/20/24 bit, CD: 16 bit
Frequency
DVD: 8 Hz ~ 44 kHz (± 1dB)
CD: 20 Hz

~ 20 kHz (± 0.1/-0.3dB)

S/N ratio
DVD: 97 dB(1kHz);
CD: 96 dB (1kHz)
Dynamic bound
DVD: 95 dB (1 kHz)
(Iec-A Curve/20 kHz Lpf)
CD: 94 dB (1 kHz)
(Iec-A Curve/20 kHz Lpf)
Harmonic distortion rate
0.008% (1 kHz )
Channels
2 (dimensional sound)
AM Tuner
Frequency wave
531 kHz ~ 1602 kHz (9 kHz )
530 kHz

~ 1604 kHz (10 kHz)

Sensitivity
18 µV (S/N 20 db)
S/N ratio
65 dB
FM Tuner
Receive frequency
87.5 MHz

~ 108 MHz

Sensitivity
9 dbf (0.7 µV/75 Ω Single Channel S/N30 dB)
50dB Sensitive degree
14dbf
S/N ratio
> 50 dB
Harmonic distortion rate
0.3 % (At 65dbf, 1 kHz, Stereo)
0.1 % (At 65dbf, 1 kHz, Mono)
Frequency feature
30 Hz

~ 15000 Hz (±3 dB)

Dimensions
Main unit
178 (W) × 100 (H) × 165 (D) mm
GPS Antenna
39 (W) × 15.5 (H) × 48.5 (D) mm
Weight
~2.5 kg
Package content
FlyAudio D7000Navi-22 car entertainment system
Product specifications, appearance and package content may differ from those presented on the website and can be changed without notice. Please, contact sales manager before purchase.
All rights reserved. This material from car-solutions.com web site may not be published, rewritten or redistributed in whole or part without authorship indicated and backlinks provided.
Multimedia System is compatible with the following models of Cars

Mitsubishi
Mitsubishi Outlander