Camera Adapters with CarPlay and Android Auto – Yes, You Are Seeing It Right!
BMW and Mercedes-Benz owners, take a look at these latest arrivals and prepare to be amazed!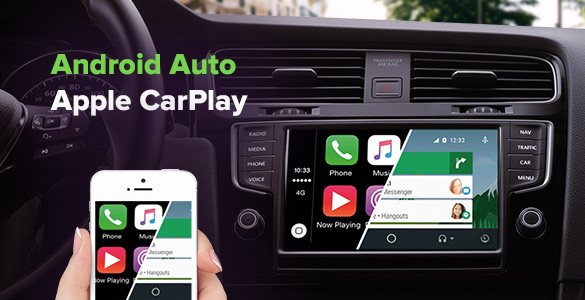 All great ideas may sound a bit crazy at first, until you actually make them happen. Meet the latest "crazy" idea – a front and rear view camera adapter with built-in smartphone connection function. And not just any function, but Apple CarPlay and Android Auto – the best smartphone-car radio software on the market. We know, we couldn't believe it at first as well.
This solution is currently only available for BMW and Mercedes-Benz but stay tuned, more is on the way!
CarPlay for BMW/Mini NBT (Wired)
Wired Carplay / AndroidAuto adapter for BMW 2011-2016 MY ▶ 1 series F20 / F21 ▶ 2 series F22 / F23 / F45 ▶ 3 series F30 / F31 / F34 ▶ 4 series F32 / F33 / F36 ▶ 5 series F07 / F10 / F11 ▶ 6 series F06 / F12 / F13 ▶ 7 series F01 / F02 / F03 / F04 ▶ X1 E84 / F48 ▶ X3 F25 ▶ X4 F26 ▶ X5 F15 ▶ X6 F16 ▶ M2 F87 ▶ M3 F80 ▶ M4 F82 ▶ M5 F10 ▶ M6 F06 / F12 / F13 ▶ Z series E89 ▶ MINI with NBT
Learn more
CarPlay for Mercedes-BENZ NTG5.0/5.1/5.2 (Wired)
Wired CarPlay / AndroidAuto adapter for Mercedes-BENZ 2014-2019 MY ▶ E-Class (W212) ▶ S-Class (W222) ▶ A-Class (W176) ▶ CLA-Class (X156) ▶ CLA-Class (C117) ▶ B-Class (W246) ▶ C-Class (W205) ▶ SLC-Class (R172) ▶ CLS-Class (W216) ▶ GLC-Class (X253) ▶ GLE-Class (W166) ▶ GLS-Class (X166) ▶ V-Class (W447) ▶ X-Class (W470) with NTG5.0/5.1/5.2 system
Learn more
CarPlay for Mercedes-BENZ NTG4.5/4.7 (Wired)
Wired CarPlay / AndroidAuto adapter for Mercedes-BENZ 2012-2014 MY ▶ A-Class (W176) ▶ CLA-Class (C117) ▶ B-Class (W246) ▶ C-Class (W204) ▶ SLK-Class (R172) ▶ E-Class (W212) ▶ CLS-Class (W218) ▶ SL-Class (R231) ▶ GLK-Class (X253) ▶ ML-Class (W166) ▶ G-Class (W463) ▶ GL-Class (X166) with NTG4.5/4.7 system
Learn more