You often use your smartphone in the car? Let us make this process not only more safe, but also very comfortable. Dension car dock will help us to do it.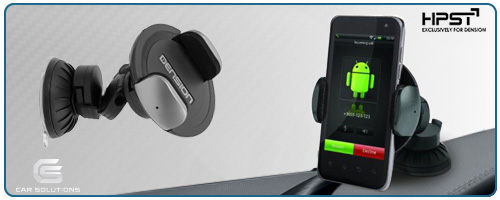 It's not just a phone cradle! This car dock allows you to:
listen to music, navigation prompts or web radio through the car stereo system
perform hands-free calls via Bluetooth and built-in microphone
charge your smartphone
hold your smartphone in the car safely
The device is powered by 12 V and is connected to car head unit via AUX cable or embedded HPST (High Precision Sound Transmitter) modulator.
You can place the car dock on the windscreen or the dashboard, vertically or horizontally, whatever is more comfortable for you. Adjustable clasps allow you to use the car dock for wide smartphones (up to 7.5 cm), e.g. Galaxy S4, Xperia Z.