Rear View Camera Connection. Part 1
First of all – why do you need a rear view camera? This device provides you with the accurate information about what is happening behind your car. In simple words you see everything and can easily, comfortably and, what's most important, safely park your car even in the night time. You've got much wider field of view than from the rear view mirror or side mirror. And the main point is that the blind area almost disappears. With the rear view camera you may not worry about scraping another car, curbs or hitting the dowel bar sticking up from the ground.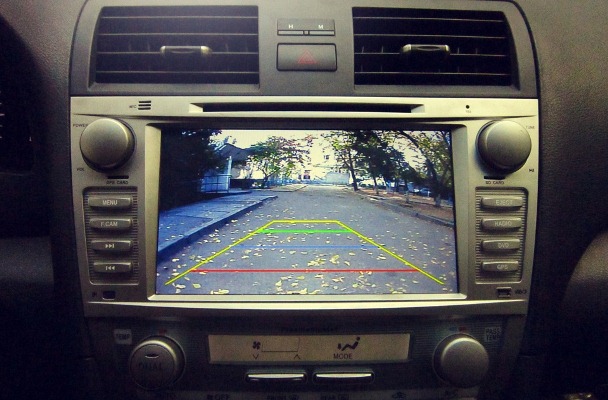 To put it in a nutshell, rear view camera is a tiny, not expensive but extremely useful parking assistant. However, very little amount of cars are equipped with the OEM reverse camera, even if they are equipped with the OEM monitor. What can you do? It's simple. Just buy the aftermarket backup camera and connect it to your OEM monitor. ☺ It's not sarcasm how it may seem at the first sight. Though you will definitely need additional devices for connection.
Types of Cameras Connection to the OEM Display
In most cases you will need a video interface to connect the aftermarket rear view camera to the OEM car monitor. It's perfect if you also want to connect aftermarket navigation, aftermarket video sources (for example, HD/DVD, Android box , TV receiver) or everything at once. More information about video interfaces, please read in our article. Soon we will also describe in details how to connect the rear view camera (how, where to put wires, where to take the ground from, etc.).
However, if you want to connect only the reverse camera, the video interface will be and additional expense, though it's the only remedy in some cases. But we also have solutions for that:
Adapters for camera connection. These are mainly the same video interfaces but with limited functions. However, there can be adapters designed only for cameras connection. Averagely the adapter is twice cheaper than the video interface.
Cables for camera connection. Our engineers have developed cables (more to come), using which you can connect an aftermarket rear view camera to an OEM monitor without a video interface. Moreover, there is no need to interfere in the car wires, so the chance of damaging them is minimized.
Since we have already written about the video interfaces (if you haven't read yet, we strongly recommend), today we will dwell upon the adapters and cables from our online store.
Cables for Reverse Cameras Connection
Let's start from the cables, as they are an in-house solution of Car Solutions engineers. For the time being we offer rear view camera connection cables for Toyota, Lexus, Mazda, Subaru, Renault, Peugeot, Nissan, Opel, Scion, Dacia.

Video Reviews of the Camera Connection Cables
Adapters for Rear View Camera Connection
Adapter
Functions
Compatibility
Video
Car
Monitor
Adapter for Volkswagen

Aftermarket camera connection
The connected camera image activation when reversing
OEM parktronic functions preservation (if available)
VW
RCD 510
RNS 310
RNS 315
RNS 510

Skoda
Seat
Adapter for Mercedes-Benz W205

Rear view camera connection
Video devices connection
Dynamic parking guidelines
Mercedes-Benz
NTG 5.0
–
Adapter for Audi

Rear view camera connection
Video devices connection
Dynamic parking guidelines
Audi
MMI 3G
–
We would like to attract your attention to one more adapter which stands out. This device, vice versa, allows you to connect the OEM camera to the aftermarket display. This adapter is necessary if you want to connect the OEM reverse camera to the aftermarket monitor after replacing the OEM monitor.
Adapter
Functions
Compatibility
Video
Car
Monitor
Adapter for Volkswagen

Connection of OEM camera to the aftermarket monitor
Volkswagen
–
–
Skoda
Seat
By the way, according to the requirements of the government, all new cars and light trucks sold in the USA should be equipped with the rear view camera by May 2018. This regulation is intended to prevent the drivers from hitting the pedestrians (especially, small children). The statistics shows that backover accidents happen rather often. A lot of drivers are already installing the rear view cameras in their cars in response to safety demands. Be one of them!
Car Solutions Team
Select rear camera
Select cable/ adapter
Select video interface
All rights reserved. This material from car-solutions.com web site may not be published, rewritten or redistributed in whole or part without authorship indicated and backlinks provided.
Customers Feedback