CS9100 Navigation Box - Your "Flight" Control Center!
Evolution is inexorable. From homo sapiens, wise people, we are inevitably transforming into homo gadgetus - people who do not imagine themselves without pocket computers, Smartphone, netbooks and other gadgets. And, of course, we cannot imagine ourselves without cars. Our four-wheel swallows can compete with our homes in a wish to make them cozy.
Though, of course, there are some limits. Eventually, we cannot embed machine in the car, but we can transform our vehicle into full-fledged informational centre. Yes, it's quite real! Car Solutions online store offers CS9100 navigation box, unique solution for cars with on-board monitors.
The device menu is customized for Lexus, Mazda, Acura, Subaru and other car brands. Navigation system is connected to the original car monitor and as a magic wand opens the world of multimedia. In addition CS9100 perfectly works with multimedia receivers of such popular manufacturers as Kenwood, Pioneer, JVC, Clarion.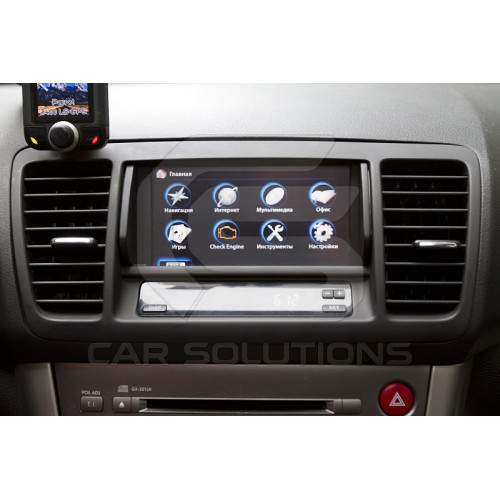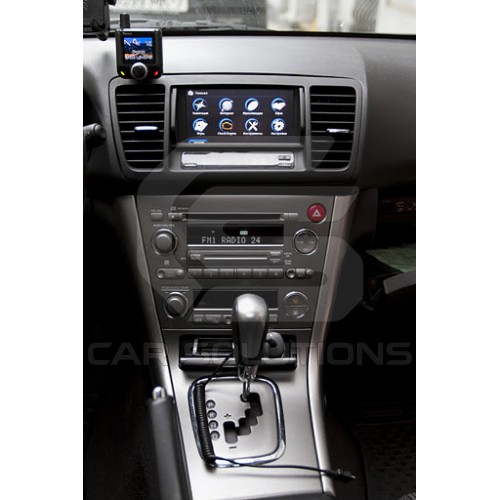 CS9100 Navigation Box Installation in Subaru Outback
Virtually everything is possible for CS9100 navigation box. However, let's start with the evident functions. This solution is connected instead of the original navigation system. This exchange is more than beneficial. On the whole you get full emulation of on-board navigation system but in native language and with the necessary maps of the required region. If you don't have touch screen monitor, it's not a problem. Car Solutions online store specialists solve it with the aid of touch screen panel and USB controller.
CS9100 navigation system is equipped with extra sensitive GPS receiver on the basis of MTK chipset. It provides high accuracy of dynamic positioning and receives data from 66 tracking channels; that's why it won't be so easy to get lost. You can chose software you need: Navitel, IGo2006, IGo8, iGo amigo, Garmin, OziExplorer and others. This navigation system is compatible with virtually all of them. Moreover, software of various developers can easily get along together in CS9100. If you want to substitute IGo8 with, let's say, Garmin, you will just need to select the necessary map in the menu; and no troubles with changing SD cards.
Speaking about memory. Nothing irritates more than SD card lacking space in the most inappropriate moment. In CS9100 navigator this problem is solved. The device is compatible with SD memory cards up to 32 GB.


CS9100 Navigation Box Connectors
We would also like to mention that CS9100 navigation box is not just a GPS. It's practically your personal computer to which you can additionally attach hard disk up to 160 GB. Do you want to listen to the music or watch the film? Go ahead! Or maybe you'd like to look through photos or beguile the time in the traffic jam by playing computer games? Nothing's easier. CS9100 allows you to work with virtually any file formats and upload additional software, for example, organizer. Simply said, your on-board navigation system becomes a full-fledged mobile office. USB hub can be optionally installed in order to connect USB devices. And if you purchase 3G modem you can forget about your office at all. Internet, e-mail and ICQ: that is the weapon of the contemporary human being. And with CS9100 navigation box you will have this weapon in your hands. Moreover, Internet in the car allows you to save lots of hours during the traffic jams. Download up to date information about the roads from the network and GPS leads you past the traffic jams.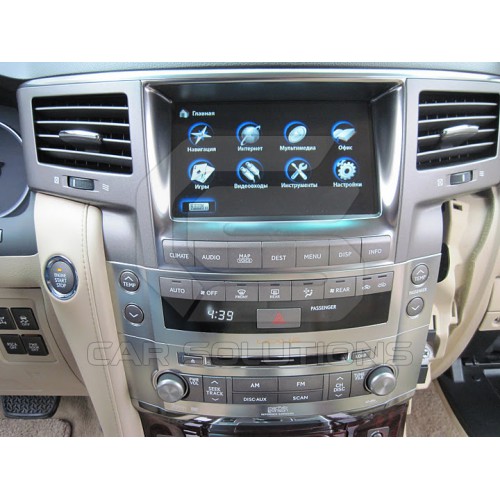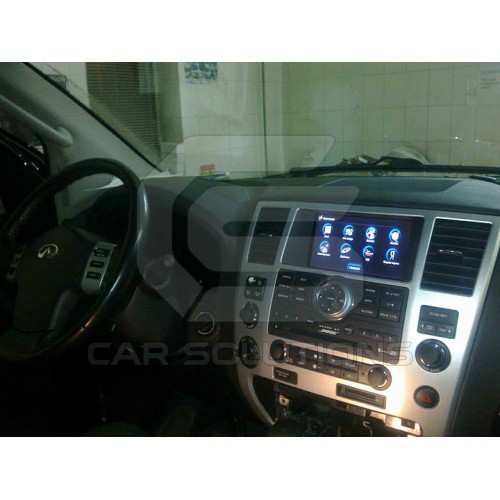 CS9100 Navigation Box Installation in Lexus LX570 and Infiniti QX
Optionally CS9100 navigation system can be equipped with night vision device constructed on the basis of brand new military developments. Such upgrade cannot be overestimated in terms of safety. This solution is a tiny device, thermal vision camera with wide angle of view which becomes the eyes of the driver under low-visibility conditions. Working principle of this solution differs a lot from usual infrared imaging cameras. Be it complete darkness, rain, snow or fog, your navigation monitor will display jaywalkers or car parked at the roadside much earlier than in the light of your xenon headlamps. Actually the camera 4 times excels headlamps providing more than 800 meters visibility.
Even low temperature objects, for example, ice blocks will also be detected by the camera. Even oncoming cars cannot blind such camera and thus the image remains clear regardless of visibility conditions. The camera is easy to install and due to its tiny dimensions doesn't mar up your car. However, in spite of the apparent delicacy lifetime of the device is more than 10 years even under severe operation conditions.
| | | |
| --- | --- | --- |
| | | |
| GPS Antenna | Remote Control Unit | Speaker |
On the whole CS9100 navigation box is a decent offspring of the scientific and technological progress. If you choose this solution you'll obtain a real flight control center.
Have a good trip and clear sky!
All rights reserved. This material from car-solutions.com web site may not be published, rewritten or redistributed in whole or part without authorship indicated and backlinks provided.
Customers Feedback