Car Navigators VS Navigation Boxes
Nowadays GPS navigation is not just the choice of the best route or answer to the question "where shall I turn?" Today navigation box can make a real mobile office right in your car – with Internet, possibility to work with documents, view photos or films, and even play games.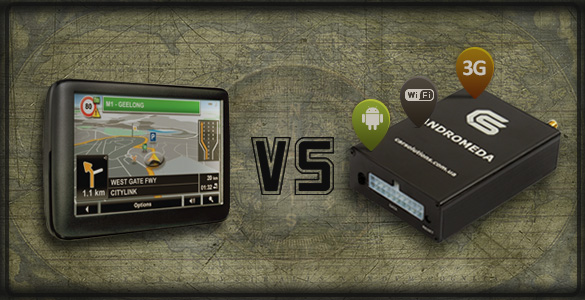 However, let's start from the very beginning: what navigation box is, what it is used for and how it differs from the ordinary car navigators. I'm quite sure that our clients don't ask such questions any more, but I'll take a guess that this review can be also useful for the car electronics beginners and the ones who try to decide how to add easy navigation to their cars.
The navigation box is connected to the OEM or aftermarket monitor, which your car is already equipped with and which you've already got used to. Even if you have the OEM navigation, it's rather poor and there are no localized maps of your region. Installation of navigation box will provide you with possibility to use virtually any navigation software and maps.
I think there is no need to explain what navigator is, this device is widely used not only by the car enthusiasts, but also by sportsmen and tourists.
If you ask us the question: "Why should I buy navigation box instead of the simple car navigator?", our answer will be the following:
First of all, what's the reason of additional device on your dash board or windscreen, if you already have a built-in display? Not mentioning the fact that not all cars allow to place it so that it won't distract attention and interfere with a view.
Then mind the tangled wires which make a complete mess on the dash-board.
And finally, GPS box is not just a navigation, it also offers many interesting and useful functions. Let's take a closer look on them:
Navigation Boxes Additional Functions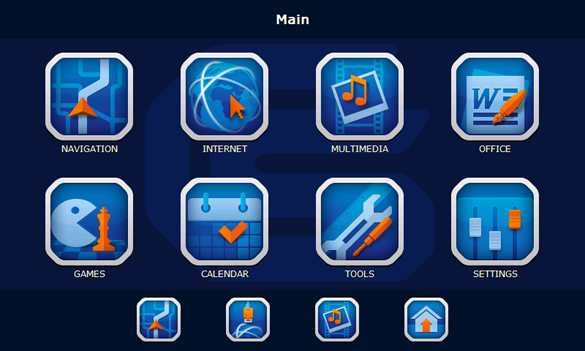 | | |
| --- | --- |
| | Internet Connection |
You can connect your GPS box to the Internet using 3G modem or USB Wi-Fi adapter. You receive full-featured access to Internet, so you can browse or check your e-mail. In case you have an Android-based box, you can download various application and widgets from Google Play.
You can also enjoy TMC and traffic jam alert services, what's useful for metropolis and just big cities drivers.
| | |
| --- | --- |
| | Connection of Additional Devices |
Navigation boxes are equipped with one or several USB ports, to which you can connect the above-mentioned 3G modem, Wi-Fi adapter, transceiver from the wireless mouse or keyboard for easier control, USB stick and even HDD (some of them may need additional power).
Some GPS boxes are equipped with the video input, e.g., for rear view camera connection.
| | |
| --- | --- |
| | Additional Programs Installation |
This function is available for Android-based navigation boxes. You can install the compatible applications and widgets from Google Play.
| | |
| --- | --- |
| | Touch Screen Control |
If you have a factory touch screen monitor, you can control the connected box on it. If your monitor is not equipped with the touch screen display, aftermarket touch screen panels will help you. To connect the touch screen panels you will also need USB controller or 4 pin cable (depending on the navigation box).
| | |
| --- | --- |
| | Multimedia |
Navigation boxes have embedded video and audio players, and also picture view programs. So you can easily watch films or listen to music from the SD memory card or USB stick. Also GPS boxes are fitted out with text editor allowing to view and, in some cases, create documents. The developers also haven't forgotten about the games, which will help you to have some fun when you are stuck in the traffic jam or waiting for someone.
| | |
| --- | --- |
| | Connection to the OEM GPS Antenna |
In case your car is equipped with the OEM GPS antenna, a small adapter will help you to connect your aftermarket navigation box to it.
Navigation Boxes connection and Operation Example
How to Choose the Right Navigation Box
| | |
| --- | --- |
| | Car monitor |
First of all your choice will depend on the monitor you are going to connect the navigation box to: whether it is OEM or aftermarket display. If you have factory monitor, choose boxes designed for the OEM monitors. Most likely, you will need the car video interface for GPS box connection. This device should be selected individually for your car. Find out what video interface is and how to choose the right one.
If you have the aftermarket car monitor, you will need box for multimedia receivers and additional cable for its connection to your car display.
We also offer navigation systems, designed especially for Toyota/Lexus, Mazda and Subaru cars.
| | |
| --- | --- |
| | System data |
Most of navigation boxes work on WIN CE and Android operation systems. They outline the range of navigation software compatible with the box and possibility to install additional programs. Navigation boxes are equipped with different processors and memory modules which influence the speed and ease of operation.
| | |
| --- | --- |
| | Functions |
When you try to choose the navigation box also take the above-mentioned function into account. Consider, whether you need, e.g. Internet, or you will use only the navigation function.
| | |
| --- | --- |
| | You will find the detailed comparison of the navigation boxes, offered by our online store, in the next review. |
So, where does it all lead? It leads to the conclusion that if you already have a monitor in your car, be it OEM or aftermarket head unit, navigation box is worth buying. Just choose the options you need. Convenient navigation and touch-screen control are worth it, not mentioning the additional features.
If your car is not equipped with the monitor, portable GPS navigator is what you need.
All rights reserved. This material from car-solutions.com web site may not be published, rewritten or redistributed in whole or part without authorship indicated and backlinks provided.