How to Connect Camera, Navigation, or Phone in a Car. Solutions Review
We usually rely on our budget and needs while shopping, but sometimes we buy a more expensive item without understanding its features. But why do we have to pay more for functionality that we won't use?
If you don't want to overpay, you need to understand what exactly you need to buy and how to use it. For that reason, we decided to devote this article to the main differences between the most popular car electronics solutions and describe them in detail.
In this article, we will talk about video interfaces, camera connection adapters, multifunctional CarPlay adapters with camera inputs, cables, and what to choose in this or that situation. Having read the article, you will understand what solution you need, and what you should pay attention to while choosing among solutions. Are you ready? Let's read!
1. What is a video interface, and what is it used for?
First, let's sort out what a video interface is, and in what cases it is used. Video interface allows connecting additional video devices to the OEM car multimedia system, for instance:
DVR (only if DVR has the video input)
DVD player
TV tuner
Apple TV
In other words, the video interface converts various video signals into the required digital format, which is used by your media or navigation system.
Some video interfaces are also equipped with adaptive or static parking lines function. They will help when parking or driving off the narrow spots or garage. Here is how they look like:
Static parking lines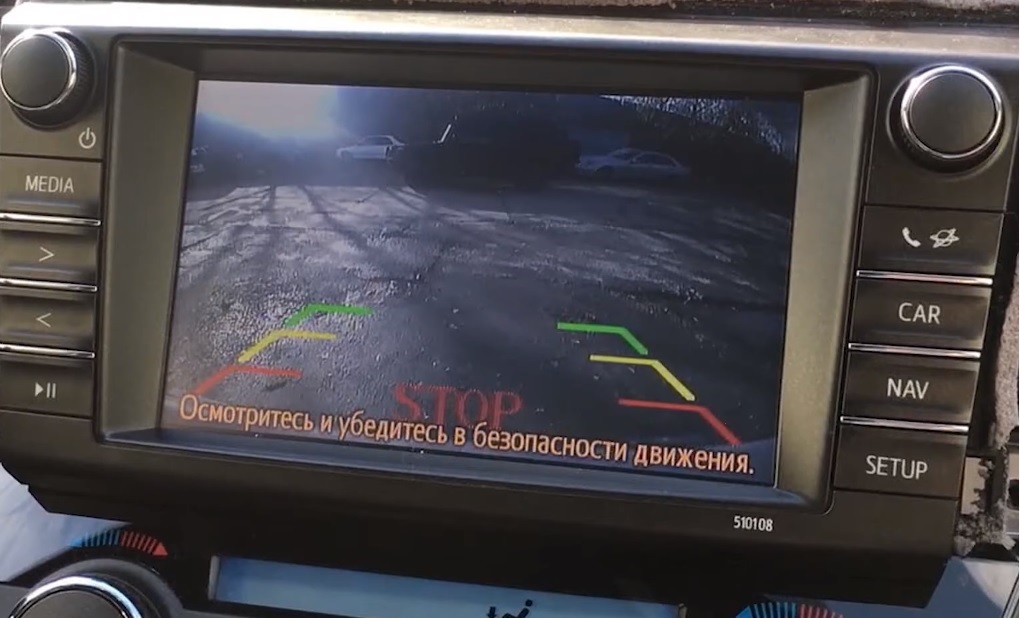 Dynamic parking ines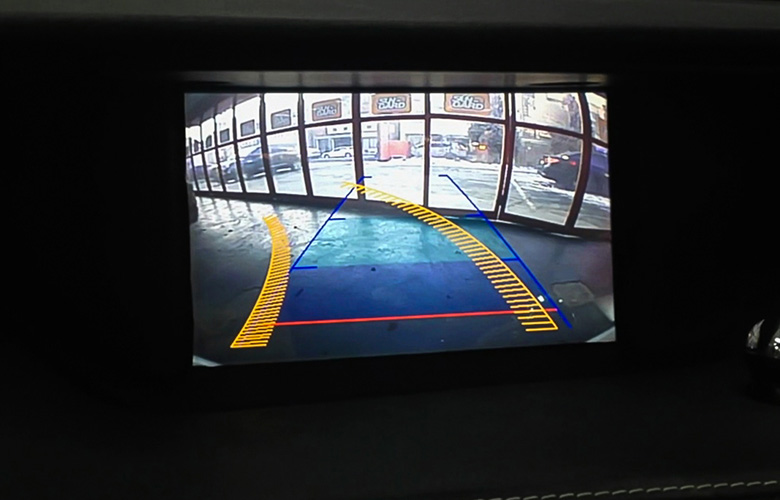 If your car is not equipped with OEM Parktronic, and you wish to install an additional rear view camera, the interface will automatically receive the data from Parktronic and display their status on the additional backup camera image. Consequently, the hidden obstacle that cannot be spotted with the camera will be visualized by the interface.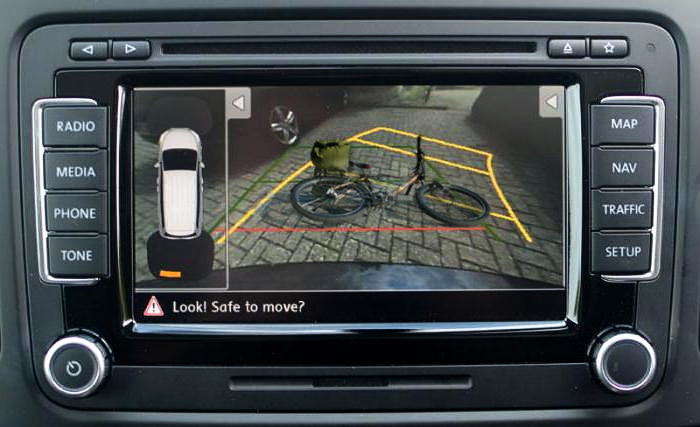 Also, the majority of the video interfaces allow you to control the connected devices using:
OEM buttons
OEM joystick
OEM touchpad
OEM touch screen, installed on the OEM monitor
Additional OEM touch screen, installed on the OEM monitor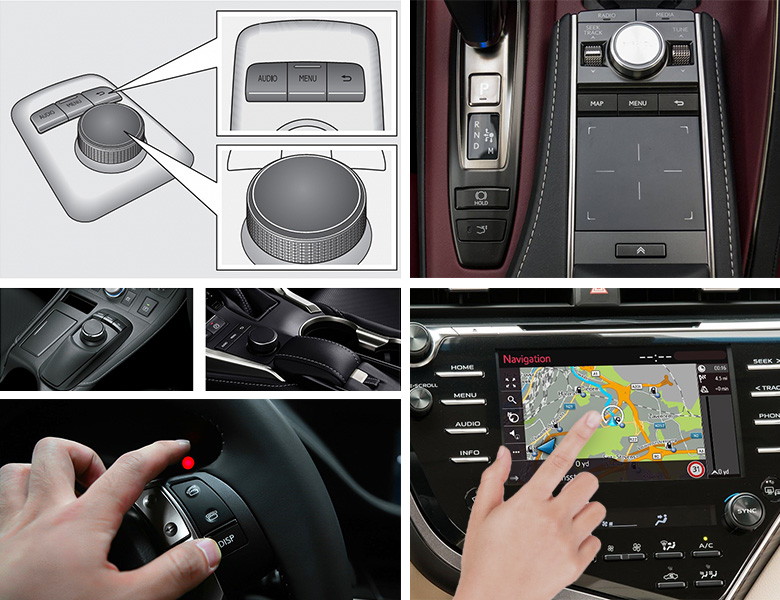 Moreover, the majority of video interfaces allow charging the additionally connected devices. Put simply, the video interface serves as the power manager between the vehicle and the additionally connected devices. Be careful during the installation, because it is required to organize the power supply for the video interface properly. In case it is done incorrectly - the car battery may be damaged. Consequently, if the video interface has the outputs for the external devices, you should use them. However, you also need to pay attention to the maximum power of such an output.
Considering all the above, it is worth mentioning that the video interface is a rather complex device that usually requires technical skills and equipment. The installation will take some time, but you will receive a very wide range of functions.
Please note! We recommend installing the video interface only with the help of qualified specialists to avoid incorrect performance of the equipment and damaging wires or other car elements.
At the moment we offer a wide range of video interfaces for various car brands: Mercedes-Benz, Toyota, Audi, BMW, Volkswagen, Porsche, and others. You need a video interface if you want to connect a navigation box or several external video devices to the car OEM monitor
2. Camera connection adapters
Camera connection adapters are a kind of simplified video interface. Manufacturers use the same CPU as for the video interfaces but without additional functionality. Therefore, you receive a cheaper and simpler version with limited functions. In particular, you can connect the rear and front view camera.
While choosing such an adapter, make sure that it will work with the OEM rear view camera. It may seem that you can find two similar solutions for the same car brand. But if you take a closer look, you will see that one of them works with the OEM camera, and the other one doesn't.
Sometimes, manufacturers meet the end-user needs and equip their devices with some additional functions. For example, you want to install a rear view camera and Apple TV, but you do not need a front camera.
In this case, you can install Apple TV instead of the front view camera. Thus, you will need to set up an adapter another way. Input with the connected Apple TV will be activated by the OEM button on the steering wheel.
3. CarPlay Adapters with Camera Inputs
If you ever thought of installing CarPlay or Android Auto functions in your vehicle, you certainly need to learn more about our adapters. Now we will focus on CarPlay adapters that allow installing cameras, play video from the USB flash drive and mirror the image from your phone on the car OEM monitor.
Such solutions are equipped with specific camera inputs and will come in handy if you need to install cameras aside from CarPlay and Android Auto. They offer Plug&Play connection thus making installation much easier and safer.
Some of these adapters have the active parking lines and allow switching between the video sources using OEM button. In addition, the backup camera image will be automatically displayed on the monitor while reversing.
You can also choose 3 in 1 solutions, which allow connecting additional video devices and cameras, as well as use CarPlay and Android Auto. Find more information about these functions in our article. More to that, you can play music on the OEM audio system from the connected smartphone or USB flash drive.
In this video our technical specialists show how such adapter works:
The main advantage of these solutions is that you can kill two or even three birds with one stone, namely:
integrate smartphone in the car
connect front and rear view cameras
install additional video devices.
4. Cables for Head Units
Car Solutions cooperates with GermesLab, a cable production manufacturer. More than 10 years on the market and thousands of satisfied customers are the result of painstaking work of Germes Lab engineers on unique automotive cables. Using these cables, you will be able to connect a rear view camera or organize video and audio inputs in your vehicle without connecting a video interface.
The first benefit of such cables - they can be a full-fledged replacement for more expensive and hard-to-use interfaces or adapters.
The second one - simple Plug&Play camera and video devices' connection without any risks of damaging the wires or voiding the car warranty.
Thus, you can expand your multimedia system functionality with any video device, for example, HD player, Android Smart TV Box, phone mirroring adapter or TV tuner without using a video interface. All the OEM functions will continue to work as before the cable installation.
In case you only need to connect a camera or a single video device - choose cables for head units. If you also need to control the cameras and set the delay timer, select the camera control systems. Learn more about these devices in our article.
5. Conclusion
Summing up, choose the solution based on your needs. For example, if you only need a camera or a single video device - choose a cable for your head unit. In case you need more functionality, for instance, install a navigation box or use CarPlay/Android Auto - choose a video interface or multifunctional adapters. If you are not sure whether you need this or that solution, please contact our sales managers, and they will gladly help you.
Well, now you know what solution to choose based on what you need. Visit our online store to get top-notch car electronics and learn something new about them!
Car Solutions Team
All rights reserved. This material from car-solutions.com web site may not be published, rewritten or redistributed in whole or part without authorship indicated and backlinks provided.